SOTT'S FRONT-SOLDIERS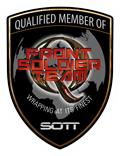 The SOTT FrontSoldiers are an Elite group of wrappers and installers worldwide who work close with us. They get new test materials and news, just before distributors are getting it.
They are buying SOTT material and promoting it too. Of course we understand that they can't work with SOTT materials only, but, to be a FrontSoldier, they have to be a serious customer of SOTT.
FrontSoldiers don't order and buy from SOTT direct; everything goes through distributors.


Astra Folio Ltd.
Bulgaria
Ivan Dimitrov Tenchev






MS-Carbox
Austria

Traian Moldovan




Studio Vitamin
Bulgaria

Dimitar Trendafilov


SFT-Performance
Germany

Andreas Siemens



Tate Design
United States

James Tate



WhoDidThat?
United States

Jeremy Conner