| | |
| --- | --- |
| Article number: | 150-MM885 |


150-MM885

SOTT DISPENCER
- Your third hand during installation
Materials and tools often clutter up the space around the vehicle during installation. What could be nicer than a handy bracket to hang your cloths and spray bottles?
Installers often find they just haven't got enough hands for everything. A third hand would be so welcome. We have the solution for both problems.
CLEAN AND ORGANIZED WORK
Workshops usually look like this: rags and degreaser spray bottles everywhere and installers running around cars looking for them. Simply use the SOTT dispenser to keep all the articles off the floor, so that everything stays clean - plus you have everything within reach.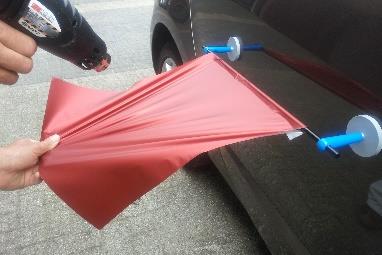 With a length of 2 feet it is the ideal bar to stretch the vinyl before you start wrapping, say, a mirror.*
Hang your cloths, spray bottles, etc. on the SOTT Dispenser and your tools will stay clean and be at your fingertips.
* Note: these accessories require two Goliaths.
The SOTT Dispenser simply fits into the holes in the handles of The Goliath mounting magnets.
*YOUR 3RD HAND WHILST PRE-STRETCHING
The newest method to wrap small round shapes such as a door handles, antenna bases or mirrors, is to pre-stretch the film to stretch and then, during the installation, to heat-shrink it again. The SOTT Dispenser is your perfect assistant! Attach the film to the bar and you can heat and stretch it as much you like.